Provides cost effective "peel and stick" protection for structures from moisture migration.
Waterproofing System is a roll-type membrane designed to provide cost-effective, quick and easy-to-apply waterproofing protection against damaging moisture migration and the infiltration of free water.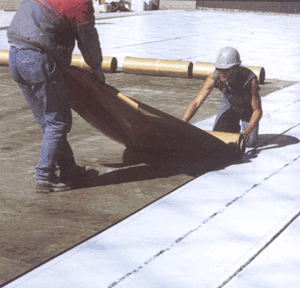 Technical Description
Waterproofing System is a flexible, versatile, dependable, roll-type waterproofing membrane. It is composed of a nominally 56 mil. thick layer of polymeric waterproofing membrane on a heavy-duty, 4 mil. thick, cross-laminated polyethylene carrier film. The two components are laminated together under strict quality-controlled, production procedures. A handy overlap guideline is printed 2 1/2" (63.5mm) in from the material edge on each side to assure proper overlap coverage and assist in maintaining a straight application. Special, exposed polymeric membrane strips are provided on both sides for positive membrane-to-membrane adhesion in the overlap area. The membrane strips are protected by a pull-off release strip. All components of the Waterproofing System including primer, pointing mastic, detail strips and membrane work together to provide a cost-effective, positive waterproofing system that's quick and easy-to-apply.
Uses
Waterproofing System provides a cost-effective answer to properly waterproof foundations, vertical walls and below-grade floors in residential and commercial construction. It is equally effective for use as a between-the-slap waterproofing on plaza decks, parking decks and structural slabs. Use it as a waterproofing membrane to isolate mechanical and electronic rooms, laboratories, kitchen and bathrooms. We offer positive protection when "wrapped around" major rapid transit, vehicular, utility and pedestrian tunnel projects.
Installation of System Protection Course is recommended before backfilling. It can also be used with drainage boards when specified.